News
The truth about the links between military service and crime
Click here to read the news item.
What makes the world's best rugby players?
In this research project, funded by the Rugby Football Union (RFU), Prof Lew Hardy, Dr Ross Roberts, Dr Matt Barlow and PhD student Alex Hennessy will investigate the critical factors which influence the development of super-elite rugby players, leading them to become amongst the best players in the World.
The research aims to identify the psycho-social factors which have a significant impact on the development of this select group of players and which set them apart from other elite rugby players.
The study is based on the findings obtained from the recent Great British Medallist study, funded by UK sport, which examined the factors differentiating between elite athletes and 'super-elite' multi-gold medal winning athletes.

In addition, the research will also look at the influence of practice and training histories on the development of the World's best rugby players, and will build on current research, being carried out with the England and Wales Cricket Board (ECB), into the performance of 'super-elite' International level cricketers.
The findings from this study will be used to inform development pathways within the RFU and help to identify players, early in the development pathway, who have a high probability of being successful at International level.  
Knowledge Transfer with Business

Over the past few months IPEP co-directors Dr Ross Roberts and Dr Stuart Beattie along with PhD student Leanne Simpson have been working closely with Metris Leadership, a leadership and business consultancy company run by ex-military and special forces soldiers.
Metris are particularly interested in understanding how to help their clients develop mental toughness and robustness and maintain high performance under pressure and contacted IPEP based on its expertise in this area within high level sport and the military. This knowledge transfer collaboration is helping Metris to further understand the role that performance psychology can play in business and how individuals can maintain performance under stress, whilst helping IPEP to develop research opportunities within business and the special forces.
New PhD students
Alexandra MacGregor completed both her BSc and MSc studies at the school, and has continued on in the department to study for a PhD with Dr. Tim Woodman and Prof. Lew Hardy, supported by a Knowledge Economy Skills Scholarship (KESS). Her PhD is a collaborative research project funded by the European Social Fund. She will be working closely with a local outdoor activities provider, Surf-Lines in Llanberis, over the course of her PhD, with the aim of applying the research to a business context
Chin Wei Ong has recently joined the school on a 125 anniversary scholarship to complete his PhD with Dr Ross Roberts, Dr Calum Arthur and Dr Tim Woodman. Chin Wei is an ex-Msc student from SSHES who has spent the past few years working as a full time sport psychologist in the Singapore Sports School providing psychological support to high level junior athletes
Caoimhe Martin completed her MSc in Sport Psychology (BPS) at SSHES, Bangor University and has continued on in department on a 125 anniversary scholarship to study for a PhD with Dr. David Markland and Dr. James Hardy.
Ross Roberts
Ross was interviewed on the BBC Radio Wales Jamie and Louise radio programme when it came live from the University in October. More...
Ross ran a BASES workshop at the start of November called "Understanding your client". This was for people on the BASES SE scheme to attend and present and reflect about recent client work they had undertaken, and discuss any successes/challenges that had occurred along the way.
Samantha McElligott
As part of the KESS PhD exploring the impact of Transformational Leadership in the youth expedition context, I led two overseas Expeditions this year for Outlook Expeditions (the KESS Company Partner). The first allowed me to pilot questionnaires for data collection, while leading a great group of Year 9 students on an adventure through the mountains, seas and ancient sights of Jordan. In the summer, I led a challenging expedition to Mongolia and China with a fantastic group of Year 12 and 13 students. As well as being able to collect data in the field, we participated in a four day horse trek through the Mongolian Steppe, Trekked in the remote Western Mountains and Plains, and helped to build a shelter and renovate a day care centre for local children in the Capital, UlanBataar. To round the trip off, we took the overnight train to Beijing to take in the history and culture of this diverse city, including, of course, the Great Wall. The expeditions were a great opportunity to apply Transformational Leadership theory, and were incredibly rewarding, if not a little exhausting at times! We managed to yield a large amount of data, which made the experiences all the more worthwhile.
Rosie Poynor
Rosie, a SSHES PhD Student, was invited to give a presentation on concentration within racing as part of the Welsh Athletics National Endurance Seminar Day, in partnership with ?Run Wales? on the 1st October 2011 at Rhayader, Mid Wales.
Tim Woodman
Dr. Tim Woodman has been involved in discussions with the AU in which the president of the AU, Danielle Giles commented on how much Bangor University Sports Clubs are benefitting from both the physiological and psychological support and development provided to teams by Sport Science MSc students through the supervised experience module. It is hoped that this help and support will continue to develop and strengthen teams as well as providing students with applied work experience in a sporting context.
James Bell
James Bell will be travelling with the England U-19 cricket team as part of their winter training camp to Potchefstroom, South Africa. This is a crucial part of the U-19's preparation for next year's World Cup in Brisbane, Australia. The aim of the camp is to provide players with experience of fast bouncy pitches like they will face in Australia and there will be a specific focus on developing game plans against spin bowling. James will be working with the players on their mental preparation strategies and working with the coaches to create a high performance environment.
James Hardy
Human Kinetics highlighted one of James' papers on self-talk as a press release More..
IPEP working with UKSport
Prof Lew Hardy and Dr Tim Woodman (IPEP) are working with UK Sport, the UK's High Performance Sports Agency on a project that will increase the likelihood of medal success for British athletes in Rio 2016 and beyond. The project will provide an in-depth study into the career development of Olympic athletes, from childhood to podium, offering an insight into a number of different factors that may have affected their performance on the world stage.
IPEP's Niamh Reilly is selected as a Delegate for the 2011 Special Olympics
IPEP PhD student,  Niamh Reilly, has been selected as a Student Delegate for the 2011 Special Olympics World Games in Athens this June.  Niamh is currently conducting research on the movement capabilities of individuals with Down's Syndrome as part of a successful ESF funded KESS scholarship between academic staff at IPEP (Dr. Gavin Lawrence and Prof. Michael Khan) and the company partner Mencap Cymru. The aims of the Delegation are to highlight the work of the next generation of researchers to help expand the Special Olympic movement and improve the field of study around intellectual disabilities.
21/06/2011

This worldwide search for PhD students conducting research within the field of intellectual disability was undertaken to allow high performing individuals to showcase their research to important members of the Special Olympics World Games delegation. Niamh was one of only twelve students selected worldwide and will present the findings from her first PhD study conducted as part of the IPEP and Mencap Cymru KESS project.  She has been given full access to all sporting events at the games and has been asked to be part of a larger group of scholars at the Games who will participate in additional sessions focusing on new areas of intellectual disability research and shaping Special Olympics future research agenda.
21/06/2011
Listen to Radio Wales' Science Cafe on Tuesday 16 November to hear about the latest performance psychology research  from the Institute
Staff from the Institute for the Psychology of Elite Performance (IPEP) were recently interviewed by Adam Walton for the BBC Radio Wales programme "Science Café" about their research into sport psychology.  If you would like to listen in, the programme will be aired today, Tuesday, 16 November at 7.00 pm and will then be available online for a week.
16/11/2010
"Bangor University is working with UK Sport, the nation's high-performance sports agency, to investigate the athlete development pathway"
UK Sport have recently announced that "Bangor University is working with UK Sport, the nation's high-performance sports agency, to investigate the athlete development pathway".
27/10/2010
Tim Woodman tells the 'Telegraph' that fulfilment of basic needs is why mountaineers may expose themselves to dangers.
IPEP's co-director Tim Woodman recently contributed to an article in the Sunday Telegraph entitled "Everest: abandon hope all ye who climb it: The death of four climbers so far this year is unlikely to deter the flood of 'tourists' hoping to conquer the world's highest peak. What is the attraction? ". In the article Tim suggested that "A lot of people who climb mountains like Everest struggle to explain why they do it. Mountaineers tend to be people who don't feel in control of emotion in their everyday lives. Emotions are a basic human requirement, and mountaineering allows them to feel fear, a very strong emotion, and be responsible for controlling that emotion" and this could be why mountains such as Everest hold such appeal to so many mountaineers. As the world's highest mountain, it represents the ultimate challenge and battle against nature's forces.
Click here to read full Telegraph article
05/10/2010
IPEP MSc Student wins full PhD studentship to the University of Paris XI
After completing his MSc under the supervision of IPEP's co-director Calum Arthur, David Gibas has won a full PhD scholarship to study at the University of Paris XI in the face of intense competition from around Europe. The PhD will focus on risk taking in business and will be co-supervised by IPEP's other co-director, Tim Woodman. The University of Paris XI is where Marie Curie conducted her research so David has some big shoes to fill!
05/10/2010
IPEP research presentation wins best presentation at the annual BASES conference for a second time.
Sally Akehurst (now at Derby University) won this year's best presentation award at the annual BASES conference. The paper, which has now been published in Psychology of Sport and Exercise, challenges more than 30 years of research that reports a positive relationship between self-confidence and performance. It also provides strong theoretically-derived evidence for the processes via which self-confidence can have a negative impact on performance. The BASES conference theme this year was 'Challenging the dogma' and given the readiness with which researchers accept the positive link between self-confidence and performance, this research definitely challenges current thinking and will likely "shake up the field". Indeed, the research has already featured on Fit Pro, a website for fitness professionals. This is the second time that research by IPEP has won the award; Stuart Beattie took home the prize two years ago. Go IPEP!
Click here to read full FitPro article
Woodman, T., Akehurst, S., & Hardy, L., & Beattie, S. (2010). Self-confidence and performance: A little self-doubt helps. Psychology of Sport & Exercise (to appear)
05/10/2010
IPEP members present on the importance of collaboration.
IPEP members Emily Oliver (Aberystwyth University), Lauren Mawn, Créde Sheehy-Kelly and James Bell (Bangor Univeristy) were recently invited to present the Symposium: Collaboration in Sports Science 'In Action' at the BASES Annual Student Conference held at Aberystwyth this year. The presentation entitled "Collaborative Sport Science: Never miss a genuine opportunity" gave an insight into, and examples of, the research and applied collaborations that have been happening within IPEP in the last year. Specifically, from a research perspective, Emily and James discussed  inter-institutional research initiatives and a partnership with the English Cricket Board (examining leadership and mental toughness). From an applied perspective, Créde and Lauren outlined ongoing collaborations with the Royal Air Force (examining stress and performance), and multidisciplinary support to a GB ski team. The presentation focused on how these collaborations arose, what each entailed, positives and negatives, ongoing developments and future plans. Lastly, the presenters discussed their own reflections on the process of collaborating as part of a staff-student organisation, and its effects on their personal development.
The symposium organiser Simon Payne (Aberystwyth University) has submitted a review of the symposium to 'The Sport and Exercise Scientist', which is due to appear in an upcomming issue.
05/05/2010
Fascinating studies by IPEP's Sam Marcora have shown the effects of perception and fatigue in endurance performance.
Recently IPEP's Dr Samuel Marcora carried out a series of experimental studies to look at the role of mental fatigue and perception of fatigue in endurance performance.The studies have been reported in many high profile publications. Indeed the review of Sam's research in 'PEZ Cycling News' has been selected as one of the best articles published in 2009 on that website for cyclists. Click on the links below to read more.
20/03/2010
Tougher training to improve mental toughness of young athletes.
Some of England and Wales' most promising young cricketers are about to get tougher- so that they can perform better under pressure. They're following a special training course to learn some 'mental toughness' skills under the experienced guidance of a multi-disciplinary ECB Team of staff including IPEP sports psychologist, Professor Lew Hardy.
The programme has been designed by Professor Lew Hardy, of IPEP, in conjunction with the England & Wales Cricket Board, in order to develop the players and improve their ability to perform under pressure. It is based on sports psychology and on Professor Hardy's work and research in improving basic training for initial recruits to the British Army.
As with any other skill, the key to coping with pressure is the opportunity to practice. For these young cricketers on the ECB's U18 Scholarships programme, this is created by establishing strict standards of behaviour and attainment, along with consequences for not achieving the standards.
Professor Lew Hardy explains, "Having researched improving training for Army recruits for a decade, one thing I have learnt is how the Army instils mental toughness in its raw recruits. This is vital as soldiers have to be able to perform in combat situations under the greatest stress imaginable. Key to this is preparation- they are given plenty of opportunities to practice being under pressure."
"We're transferring the same techniques to the young cricketers. To do this we create situations where their actions have consequences- which can be negative. We also provide them with strategies to cope and opportunities to practice these.
Professor Hardy explains: "The pressure we feel when trying to achieve is our attempt to try to avoid the threat of imminent 'punishment': which is how our brain views any negative consequence. This could mean the humiliation of being dropped from a team or any other negative result arising from poor performance. Being unable to deal with that stress hinders your performance and then makes the consequence more likely- a self fulfilling prophecy."
This is the first full year of the programme, part of which included a tour of India from 12 to 28 February 2010.
Simon Timson, the ECB's Head of Science and Medicine and U18 Scholarships programme manager said "Lew's innovative thinking allowed us to run a very successful pilot project last year. County Academy Directors noticed significant changes in the players' attitude and approach to practice and performance. This has allowed us to enhance the programme this year to include two T20 matches against Karnataka State and three one day matches against Sri Lanka U18s in Bangalore. These matches provided the players with a crucial opportunity to implement the mental toughness strategies they've learned in real match situations with the support of our team of experts."
Andrew Salter from Glamorgan CCC's Academy said: "I have gained an enormous amount from being part of the ECB U18 Scholarship programme and have a much better understanding now of how important mental strength is if you are to succeed in international cricket. Being able to handle your emotions under pressure is a skill like any other and I will approach high pressure situations in matches with far more confidence now thanks to the advice we have received from Lew Hardy, Floyd Woodrow, Michael Vaughan, Graham Gooch, Alec Stewart and the other staff involved in the programme."
03/03/2010
IPEP join forces with British Army to improve initial training.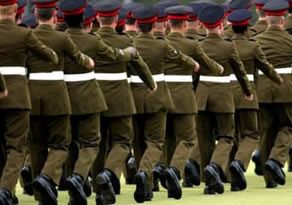 Sport Psychologists from the institute have been working with the British Army for over a decade to increase the number of initial recruits who achieve the standards required by the Army.
Professor Lew Hardy and Dr Calum Arthur have been working with different sections of the Army to enhance military training techniques. They have been introducing the latest theories from organisational and sport psychology to improve training for initial recruits and NCOs and providing improved training and leadership skills to the trainers within those sections.
According to Lieutenant Colonel Tim Cain, Ch G7 School of Infantry: "The support provided by Prof Lew Hardy and Dr Calum Arthur has been key to the development of Values Based Infantry Leadership; a modern approach to training that enhances performance through the identification and ownership of shared values".
"We've worked closely with the different parts of the Army to help them define their goals and then developed programmes that they can deliver to achieve those goals. It was quite important that we worked closely with the Army and gave Army staff the skills and knowledge to deliver the training- as we knew we'd have little 'street-cred' within the Army ourselves," explains Professor Lew Hardy, who has led and researched the effectiveness of this programme since 1998.
A significant development was to make subtle but important changes to the way that Corporals, who a do the bulk of initial training, view their role. This has enabled them to move from being the 'gate-keeper' of the standards required, selecting only those who attain the standard, to being an enabler- assisting recruits to achieve those standards – without a drop in the quality of recruits accepted.
In fact, Prof Hardy explains that 'train in, not select out' has become a bit of a motto in Army training.
So with the advent of modern coaching theories, has training become 'softer' in its approach ? Not at all.
As Professor Hardy explains: "The Army's main training objective is to transform raw recruits, more often than not, youngsters, who often come from difficult backgrounds, into mentally resilient soldiers who will perform under the most intense pressure imaginable, where mistakes can lead to their death, the death of the person next to them, or all of them- this is not just the loss of a league game. For this reason it's really important that these recruits learn to deal with pressure in training. They are done a disservice if they are not trained to cope under stress. So the harshness of army training is essential, but needs managing properly."
Having worked initially with the Royal Marines Commando recruit training, Professor Hardy has since worked with Infantry recruit training and NCO training at the Battle School in Brecon and has now begun a programme that should spread the methods through initial recruit training for all support divisions within the Army.
The programme involved bringing together university skills and knowledge, with the skills and knowledge that the Army had, in order to bring about the change that the Army wanted to achieve. It has also enabled the Army to roll out the process themselves.
By now, thousands of soldiers, through the Regiments, have benefitted from the new training style and the majority of serving NCOs involved in training have received increased and improved coaching in best-practice training and leadership methods.
Professor Hardy's statistics show that  the methods have enabled the Army to pass out more soldiers without dropping the standards of the recruits it allows to enter the Army, simply by being able to bring more of those recruits up to achieve the required standard.
"The Army realised early on, that this wasn't just about improving training to complete a task, this was transformational change that would change the way that people perceived their roles, and, ultimately the culture within the Army," says Professor Hardy.
20/01/2010
Anger beneficial in some sports
Boxers are renowned for upping the ante by trading slurs and insults at pre-fight weigh-ins or press conferences- but researchers at IPEP suggest that the role goes beyond showmanship and have found that, if effectively harnessed, venting your anger can improve performance in certain sports tasks. The article which was published in the Journal of Sport and Exercise Psychology has received attention from the BBC online and also in a Canadian national newspaper "The Globe and Mail". IPEP's Tim Woodman was also interviewed by BBC Wales's Jamie and Louise live programme in January.
Woodman, T., Davis, P.A., Hardy, L., Callow, N., Glasscock, I., Yuill-Proctor, J. (2009). Emotions and Sport Performance: An exploration of happiness, hope and anger. Journal of Sport and Exercise Pscyhology, 31, 169-188.
13/01/10
'Welcome to the Jungle'
IPEP member Ross Roberts is co-presenting a BASES workshop on Nov 4th at Chester University entitled "Welcome to the Jungle: Getting started in Sport and Exercise Psychology" which is aimed at people starting out on the road to becoming accredited practitioners. The workshop was popular and well received the first time it was run.
15/10/2009
David Brailsford CBE to lecture on Elite Performance at the Institute.
David Brailsford, CBE, was Performance Director of British Cycling during both the Athens and Beijing Olympic games. He is credited with being the mastermind behind Great Britain's most successful Olympic team. He was subsequently voted 'Coach of the Year' in the BBC Sports Personality of the Year Awards in 2008, where his team was also named team of the year. David was appointed CBE in the New Year's Honors List 2009. David holds a degree in Sports Science and Psychology and obtained an MBA from the Sheffield Business School. Earlier this year he was awarded an honorary doctorate at Bangor University. Considering all of his achievements, his lecture at Bangor University in November titled 'Elite Performance' promises to be un-missable. For more information see our events page.
05/10/2009
GB Telemark ski team visit the Institute

The GB telemark ski team are visiting the Institute for the Psychology of Elite Performance (IPEP), this weekend 16/09/2009. The team have been working with IPEP members in preparation for their upcoming competitive season. This is the second consecetive year that the GB team have come to the institute for pre-season preparation. IPEP members Lauren Mawn and Stephanie Connell have provided the team with numerous workshops including the development of a performance profile, goal setting, imagery, and season specific team building.
14/09/2009
Mike Khan delivers workshop on coaching for Sports Council for Wales.
Sports Council for Wales and IPEP member Mike Khan recently teamed up to provide the a coaches workshop for the North Wales institute of sport. During the workshop, titled 'Making time work for you – Reaction time principles and sport', professor Khan shared his insights from over 20 years of experience of coaching and theoretical expertise.  The interactive session challenged "coaches thinking" and looked at the importance of reaction time principles in sport.  The session also discussed the various factors that influence reaction time in sport such as: the alternatives in attacking and defending situations, cue utilization and prediction, use of deception and dual tasking.
01/09/2009
Tim Woodman features on Channel 4 documentary 'The Human Spider'
This heart-stopping Cutting Edge documentary follows Alain Robert, dubbed 'The Human Spider', on his quest to 'free climb' some of the world's tallest buildings using just his bare hands, with no ropes or any safety equipment.  The programme includes an interview with IPEP co-director, Tim Woodman.  Shown on Channel 4 on Monday, 12 October 2009. It is currently available to watch on Channel 4 on demand (click here for link).
01/09/2009
Sports Council for Wales funded PhD
Bangor University's Institute for Psychology of Elite Performance will be partnering with Sport Council for Wales investigating coaching behaviours in relation to psychological skills and training. Rosie Poynor as the selected PhD student, is due to commence the four year research project in November 2009. The emphasis will be upon designing sport psychology programmes which are tailored to coaches' needs regarding the application of sport psychology with their athletes. Rosie will also be working with Elite Welsh athletes on an applied basis during the next four years.
01/09/2009