Personality
Personality is at the root of human behaviour. However, human performance research has focused almost exclusively on performance processes rather than on personality or the role of personality within such processes.

The aim of IPEP's research is to redress this imbalance, specifically by investigating how personality, performance strategies, and other factors interact to influence elite performance.
Some of our work has focused on the Big 5 traits of extraversion, neuroticism, conscientiousness, openness and agreeableness (e.g., Woodman et al., 2010). However, most of IPEP's personality research goes beyond this broad trait based approach to consider more focused personality variables like narcissism (e.g., Roberts et al., 2013) and alexithymia (e.g., Woodman et al., 2009) that have a strong theoretical rationale in terms of how they influence performance.
Key publications
Roberts, R., & Woodman, T. (in press). Contemporary personality perspectives in sport psychology. In S. Hanton and S. Mellalieu (Eds). Contemporary advances in sport psychology: A review. Oxford UK: Routledge.
Roberts, R., Woodman, T., Hardy, L., Davis, L., & Wallace, H. W. (2013). Psychological skills do not always help performance: The moderating role of narcissism. Journal of Applied Sport Psychology, 25,316-325. doi:10.1080/10413200.2012.731472
Woodman, T., Roberts, R., Hardy, L., Callow, N., & Rogers, C. H. (2011). There is an "I" in TEAM: narcissism and social loafing. Research Quarterly for Exercise and Sport, 82, 285-290.
Woodman, T., Hardy, L., Zourbanos, N., Beattie, S., & McQuillan, A. (2010). Do performance strategies moderate the relationship between personality and training behaviors? An exploratory study. Journal of Applied Sport Psychology, 22, 183-197.
Woodman, T., Cazenave, N., & LeScanff, C. (2008). Skydiving as emotion regulation: the rise & fall of anxiety is moderated by alexithymia. Journal of Sport & Exercise Psychology, 30, 424-433.
Key Staff
Postgraduates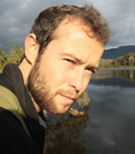 Harry Manley